Want to Help Us Haunt Maudslay?
Every year, Theater in the Open invites the public to Maudslay State Park for our beloved spooky fundraiser. On the two performance days, our audience will walk a pre-marked trail through the park and encounter 15-20 chilling and fun skits. That's where you come in.
Why Volunteer?
-Not only is Maudslay is Haunted a wicked fun time and long-time north shore tradition, it is also a very important fundraiser for Theater in in the Open. Your participation helps to support our mission of providing top quality arts education and free theater to our entire community.  Thank you!
Who can volunteer?
– Anyone who loves to play and is available for the rehearsal and performance dates listed below
– Parents & Kids alike! Performing in a skit with your child is a great way to have some fun together! We ask that children 10 and under are accompanied by a parent/guardian volunteer for the performances, so why not try something new and participate as a family?
Do I need to have a skit idea when I arrive?
– You can come with a group of friends who want to work together and have an idea for a skit, or you can come by yourself with no idea and we'll find you a group and an idea to work with. Or almost anything in between!
– There will be Theater in the Open experts who will help your group shape a skit that will be fun to perform and to watch.
What else do I need to know?
– All rehearsals will be at The Gatehouse at 1 Spring Lane. The performances will be at the Park but volunteers should be dropped off and picked up at the Gatehouse, where costumes and props will be stored.
– The gates are open from 2-4 PM on both days and the audience walks the trail in groups, which takes about an hour per group. So…
– You will perform your skit several times during the two hours that the audience is walking the Trail.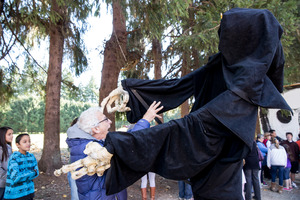 – All volunteers need to be in their make-up and costumes and at their skit site by 2pm, which is why we ask everyone to be at the Gatehouse at noon on the performance days.
– The last audience group begins the Trail at 4pm so volunteers shouldn't expect to be done before 5pm. Please also factor in time to return to the Gatehouse and store costumes and props.
– Theater in the Open has lots of costumes and props to use but we might ask you to wear something of your own (something you already have) or help us build something for you. Please provide your own shoes.
– October weather is unpredictable so we will try to costume you in layers and you should bring whatever water, snacks etc. you might need on the performance days.
Great! When should I be there?
Orientation: Sat. 9/30, 12-2pm
1st Rehearsal: Sat. 10/7, 1:30-3:30pm
2nd Rehearsal: Sun. 10/8, 1:30-4:30pm
Final Rehearsal: Sat. 10/14, 12-4pm
Performance: Sat. 10/21, 12-6pm
Performance: Sun. 10/22, 12-6pm
Raindate: Sat. 10/28
Can't commit to all rehearsals?  Not interested in acting?  There are plenty of other ways to help on the day of the event, from helping to park cars to wearing a Grimm Reaper puppet!
Please shoot an email to aisha@theaterintheopen.org if you can volunteer for either show dates.
Who should I contact with any questions?
Please email aisha@theaterintheopen.org. Thank you!